Over the years, many different trends have come and gone in the auto accessory field. Trendy fads that were once popular such as neon under body kits, 13" wire wheels pushed out, neon washer nozzles, air shocks and huge rear spoilers, just to name a few. These days, many of the same mods from the past are still popular but with a slightly different interpretation. One good example is the custom grille for cars, trucks and SUVs.
Over the years, custom grilles have been very popular among many car enthusiasts. However, these products were often hard to find for cars, and many vehicles that features these products had items that were custom made by custom auto shops or by their owners. Today, many companies have recognized the appeal of upgrading the grille on the vehicle and thus pushed the manufactures like us to make a wide range of grilles available in the market.
Different types of grilles include billet grilles, stainless steel wire mesh grilles, chrome mesh grilles, honeycomb style speed grilles, chrome factory style grille shells, chrome custom aftermarket grille shells, aluminum mesh, and they even come with all kinds of designs and patterns on grille like flames, round holes, spider webs and much more. Among those, the most popular one is the mesh grille that resembles the mesh grilles found on Bentleys and Jaguars.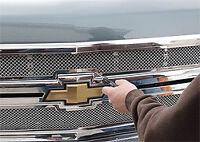 We, US Auto Parts Depot, are the company which offers high quality wire mesh grilles at the lowest price in auto parts and accessories market. Our mesh grille is made from 304 marine grade interwoven stainless steel wire mesh and it comes with a CNC machined frame. It is more expensive than the traditional billet grille, but the finished look over your vehicle is way more impressive than what the billet grille can offer.
At US Auto Parts Depot, there are many mesh grille options with just the exact fitment for your make and model of vehicle. It also comes to three different kinds with regards to its installation method. Some are installed as inserts where slightly cutting is required for removal of original grilles Others simply fit directly into the opening between headlights. The third kind of mesh grilles completely replace the OEM factory grilles.
Welcome to our store and your are sure to get something special for you!


Guide created: 07/07/09 (updated 11/27/12)