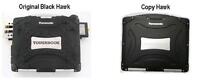 The success of the Original Black Hawk Toughbook has gone viral and now the copy-cat imitation machines are starting to pop up in the U.S. When a successful brand is developed, there will always be a pirated version. Its lack of innovation and creativity that leads to the original being duplicated. China and Canada have imported many pirated items often sold on eBay. Refurbished Toughbooks are no exception.
Original Black Hawk Toughbooks use a Rubber Knobby Protector designed to protect both machine and vehicle. The request for the device came when undercover vehicles would use Toughbooks with no docking station. The laptop sitting on the dash becomes a sliding projectile and the rubber secures the machine, and prevents the windshield from cracking or chipping under sharp turns and potholes.
The next is the paint. Only Black Hawk Toughbooks Refurbished in the USA, use a rubber based paint. The paint has the texture and durability of a coating rather than the typical paint used buy the copied laptop. The paint does not chip, repels moisture from screw holes, has a specific gravity lighter than most coatings which increase the buoyancy of the laptop if dropped in a pool of water etc. Black Hawk Toughbooks of USA will not paint the laptop handle black. In-fact, the original BLACK HAWK often will remove all paint and rather, chrome the handle (deflecting heat). The machine is sitting on a dash board, or on desert floor, making the black handle difficult if not impossible the grab due to high temps.
The Metal Badge. Only Original Black Hawk Toughbooks replace the plastic emblem with the metal one. The GPS of the original BLACK HAWK is a removable device allowing the user the option to eliminate a constant drain on battery power, and the option to use the GPS on other laptop and Toughbooks necessary to download it's history and location. Because the Black Hawk Toughbook of the USA, uses a GPS device with 2GB internal memory and internal battery, the user can store their personal data like Google Earth Images, Geo Coaching data, way points, photos etc. This allows the GPS to store all its movements then be handed off for data transfer and download. This is a unique military advantage. The internal memory and 2 way SAT communication also allows the end user to track their machine so that all laptops register buy just using the "find me" software feature. These tracking features can be turned on or off, unlike the GPS device typically seen on laptops sold on eBay.
Guide created: 06/14/12 (updated 08/11/12)