Why Aftermarket Oil Filters Can Cost You Money
Certain aftermarket oil filters have a permanently attached filter housing cap that can lead to some serious problems for your Power Stroke Diesel:
1. Dirty oil entering the engine, which can cause fuel injector damage
2. Fit and filtration problems
3. Increased maintenance costs
About Motorcraft
Motorcraft's patented 6.0L & 6.4L oil filter snaps into a reusable
filter housing cap
. The filter is disposed of at each oil change interval, while the Original
Equipment (OE) cap is reused. Motorcraft's patented design has key advantages over the competition:
- Complete filtration of engine oil, which ensures high performing fuel injectors and long engine life.
- Motorcraft filters are the only filters guaranteed to fit and function properly on your Power Stroke Diesel engine.
- Reduced maintenance costs when reusing OE filter housing cap.
When oil change retailers install their aftermarket filter with an affixed filter housing cap, they discard the OE filter and OE filter-housing cap. When that happens
customers are faced with a decision at their next oil change. Do they:
- Continue to use an aftermarket filter that can damage the fuel injectors and engine?
Or…
- Purchase an OE filter housing cap?
Obviously, the right decision is to purchase a new oil filter housing cap. This one-time cost allows you to once again use the Motorcraft filter that is patented for your Power Stroke Diesel vehicles.
In order to know that your Ford Power Stroke Diesel is being taken care of, use Ford
motorcraft
filters at every maintenance interval.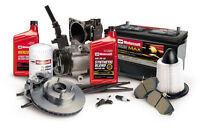 Shop Navigation:
eBay Motor
>
Car Parts
>
Oil Filter
>
Ford Oil Filter
eBay Motor
>
Car Parts
>
Oil Filter
>
Ford Oil Filter
>
Motorcraft Oil Filter
Guide created: 02/07/12 (updated 04/12/13)