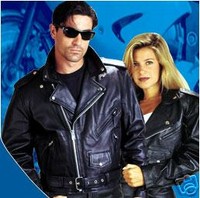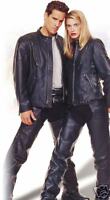 Ok here you are shopping on ebay for that perfect leather motorcycle jacket, biker chaps, leather pants, or saddlebag. Many ebay sellers show the same catalog picture. However, their is a wide range of prices for what seems to be the same product. Most of the sellers are claiming that they wholesale to the public. So is the one with the cheapest price the true wholesaler? Probably not! Most wholesalers deal in large volume and sell to resellers or retailers who then sell on ebay. So since everyone claims their leathers are the best how do you know what you are getting? Especially since you can't come and feel the leather. Well a little education will go a long way. We hope this will help you make an informed decision when buying leathers online.
Types of Leather:
Full Grain- This is the term for the leather surface without and attempt to hide or conceal the natural markings of the animal which incurred during its lifetime. Like bug bites or barb wire marks. Full grain leather can be either pure aniline or semi-aniline. Full grain is top of the line and the best leather to use for Motorcycle Leathers. When sellers use the term Naked leather they are describing full grain leather that usually runs around 1.5-2.0mm in thickness.

When Full grain leather has too many of Nature's Signatures it is buffed or sanded and removes some of the natural grain. A pattern is the embossed into the surface this is known as plated leather and is usually semi-aniline.

Semi-aniline describes a supplemental step beyond aniline dyeing, which adds a top coating of highly dispersed pigments and dyes to the surface of aniline-dyed hides.

Full or Pure Aniline-about only 5% of the world's hide supply is high enough quality for pure aniline naked leather. Aniline dyeing is the process of soaking the skins in transparent aniline dyes, which color or shades the skins without obscuring the natural marking or grain character of the leather. The hides are dyed all the way through with no pigmented topcoat. Often referred to as drum dyed. These are the best quality, strongest and most expensive hides that are available for Biker Leathers.

Top Grain- the thickness before tanning can vary quite a bit. To obtain a uniform thickness, the hides are fed through a splitting machine with the grain side up. Yielding a grain portion called "top-grain." Top grain is often used in less expensive motorcycle apparel it usually is about 1.2- 1.3 in thickness . It is not as strong as the naked or full grain leathers. The underneath or flesh layer that cut off is called a "split".

Split leather possesses no natural grain, it has to be given a leather look. The tissue structure is not as strong as top-grain. The cheapest leathers are made from splits and most sellers will not advertise this. Cheaper saddlebags are made from splits. However in saddlebags if the splits are at least 5oz. or more and embossed they will hold up ok.
A little known fact in the Processing of Leather is Fat Liquoring- this is the last of the wet chemical operations to which the leather will be subjected. Fatliquoring has the most pronounced effect on how soft a leather will be and it contributes greatly to its tensile strength. The more fatliquors that are added, the softer and stronger and usually more expensive the hides will be.
Ok Now that you know the difference in the quality of leather. You need to know what types of hides can be used in the leathers you are buying.
Better motorcycle leather is from Cow hide or Buffalo. Good Buffalo is American Bison.

Cheap and lower quality hides are Pig, Goat, and Water Buffalo. Which many sellers refer to as Buffalo. The problem with water buffalo is it never softens and it is stiff forever.
Lambskin is a beautiful and soft expensive hide but does not usually have the tensile strength you need to really protect you and hold up if you take a slide on the pavement.
OK SO WHEN BUYING ONLINE HERE ARE A FEW FACTS TO REMEMBER:
The World Hide Market is pretty standard on the price of hides. Most manufacturers of leather goods are out sourced out side the United States for cheaper labor. This means most motorcycle leathers are imports from India, Pakistan or China. Most Chinese leather is cheap and not very durable. With everyone wanting to be more competitive on ebay, more suppliers are carrying Chinese leather.
So with the world hide market and leather manufacturing being fairly standard. When you see a very low price for some leathers you need to ask yourself.
Is it really cow or some other kind of cheap hide?

Next what type of hide is it? Top grain, split or a full grain Naked leather hide.

Naked leather pig or goat is going to be fairly cheap, but doesn't have the strength to give you the same protection as Naked premium cowhide.
Last but not least, since most sellers sometimes do not even know themselves the difference in leather and figure that since you can't touch it you won't either. They will claim they are selling premium naked cowhide when they are not. We are not trying to steer you away from a good deal, but let common sense take over. If a certain product is advertised unbelievably cheap, It probably is cheap low quality hide!
Remember, the bitter taste of poor quality lasts longer than the sweet taste of a low price. When skidding down the asphalt which would you rather have, the cheapest thing you can find or the highest quality leathers you can find?
When looking for leathers online, beware of Italian Stone or Diamond Plate leather. This is patch work leather that is made from scraps or inferior leather. These products are strictly fashion statement leather and not meant to protect you when riding.
Other things to know is Leather itself is not usually warm. It is the linings that help give it warmth. Zip out or snap out lining jackets are going to cost more than fixed lining. Also if a jacket has a lining check whether it is full sleeve or just a vest liner. Again vest lining jacket isn't going to be as expensive as a full sleeve lining, but in warmer climates a vest liner can be preferred.
Lining in chaps do not make them warmer! Unless they come with a zip out thinsulate lining! Regular lining in chaps will add a little to the price, however it is well worth it. The lining makes it much easier to get them on and off. It also protects you from leather shedding on your jeans and offers a bit of a break from the wind.
OTHER HINTS TO HELP YOU WHEN PURCHASING MOTORCYCLE GEAR ONLINE: Look for name brands that you can find in a local bike shop. This will help you know the quality of merchandise you are receiving. Look for higher end brand name apparel, like First Manufacturing Company (FMC) Xpert Leather line. Their direct market competition is Harley-Davidson who's been manufacturing many of their leathers in China lately. So we think for the price and quality that Xpert brand definitely out does them. XPERT offers naked analine leather!
Things to understand when purchasing on ebay. Custom sizing doesn't mean Custom fit or Custom Tailored! Many dealers offer custom sizing because you can't come and try things on. They need your measurements so they can know how to best fit you to their merchandise that is already made. This also lets them know if the merchandise you are wanting to buy will even fit you. Many leather companies cut their products so differently your accurate measurements are really needed to determine best fit.
If you live where it is very wet, we suggest you purchase a rain suit. A textile suit or some reversible leathers that are leather on one side and water proof material on the other side is a great choice for protection and comfort.
Water and leather do not mix great. The purpose of fringe on leather is to wick the water off of your leather while you are riding. Finished leather will be water resistant but not Water Proof! The best thing to do is to care for your leathers with a conditioner designed specifically for the type of leather you select. Good products are Lexol or Bic4. Mink oil will water proof your leather but can darken its appearance some.Take good care of your leather and it will take good care of YOU for years to come.
IT'S NOT THE DESTINATION BUT THE JOURNEY!
Guide created: 10/09/05 (updated 04/06/13)