I hope this guide is helpful! Please vote "yes"!
Buying a used snowmobile offers its own unique challenges. As a former service advisor at the largest Arctic Cat dealer in the world, I have learned a few things about what to look for (and look out for) when buying a used sled. First off, you should never finalize a deal without seeing the sled in person. Many parts on a sled are designed to wear over time, and, if not properly maintained, can cause collateral damage. Check:
Hyfax (sliders) for excessive wear. Most styles will have wear indicators on them. If the hyfax have worn too far, they can cause severe track damage (I have seen it as soon as the first 1500 miles on a new sled)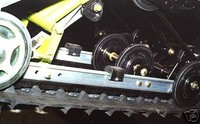 Carbides-Same as above-if they are significantly worn, they won't allow the sled to turn the way it was designed to
Track studs/clips-inspect for missing or worn clips, studs pulled through the track, etc. Track clips are cheap, but the labor to replace them is expensive. Too many missing clips, and it is cheaper to replace the track.
Gear oil for excessive metal shards- it is normal to have some, but if the magnet on the dipstick has two inches of metal hanging from it, that is way too much.
Always do a compression check. Most sleds are two strokes, and they tend to burn down pistons when not running right. In some cases, they will still run with a hole in the piston!
Inspect for modifications. Most sled riders will modify their sleds for performance, I would personally steer clear of these. They just tend to see failures more often. The OE manufacturers built it one way for a reason. And, if it is a new sled, you can pretty much count on a voided warranty.
Check with a local sled shop if you have any other concerns. You will usually find people that love to talk about sleds, and usually, some good information mixed in.

I hope this was helpful. If it was, please answer "yes" below. Thanks!

Guide created: 08/04/06 (updated 10/19/14)